The People & Robots Design Challenge
February 4th, 2021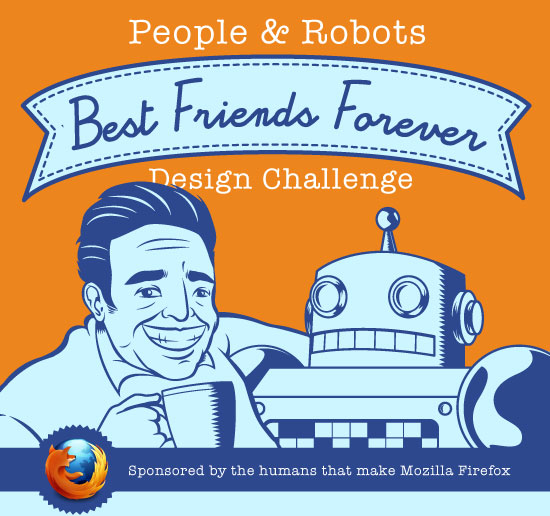 Don't believe everything that the movies tell you about technology. There's not going to be a Cylon uprising, you don't have to choose between the red pill and blue pill, the Governor of California is not going to terminate us, we need not fear the breasts of the fembots and machines aren't going to poison our asses with poisonous gases.

Robots are our friends, not foe. Affirmative.
And we're depending on all of you to demonstrate this in our current design challenge: "People and Robots: Best Friends Forever". Think C3PO and Luke, Bender and Fry, Johnny Five and Ally Sheedy, Data and Geordi. Imagine Wall-E coming by to clean your living room every week. You get the idea.
This design challenge is the second phase of our community art project done in collaboration with Mozilla, the makers of Firefox. Mozilla products are made by a global community, who sincerely believe in the power of technology, browsers and robots to enrich people's lives.
The very creative, non-cyborg folk at Studio Number One (the design agency founded by Shepard Fairey) will be helping us pick the winners.
Some things to know before you start:
Make your design about technology making people's lives better. Including robots is good too.
Designs do not need to include the Firefox logo in the design
Designs do not need to be composited onto a device (unless you really want to).
Winning designs will be made into Laptop Art, iPhone Art, Desktop Wallpapers, iPhone Wallpapers, Firefox Personas, Firefox t-shirts and receive a featured spot in the Mozilla Creative Collective (launching shortly).




You May Also Like :
Check Skins :