New! New! New! New! New! New! New! New!
February 6th, 2021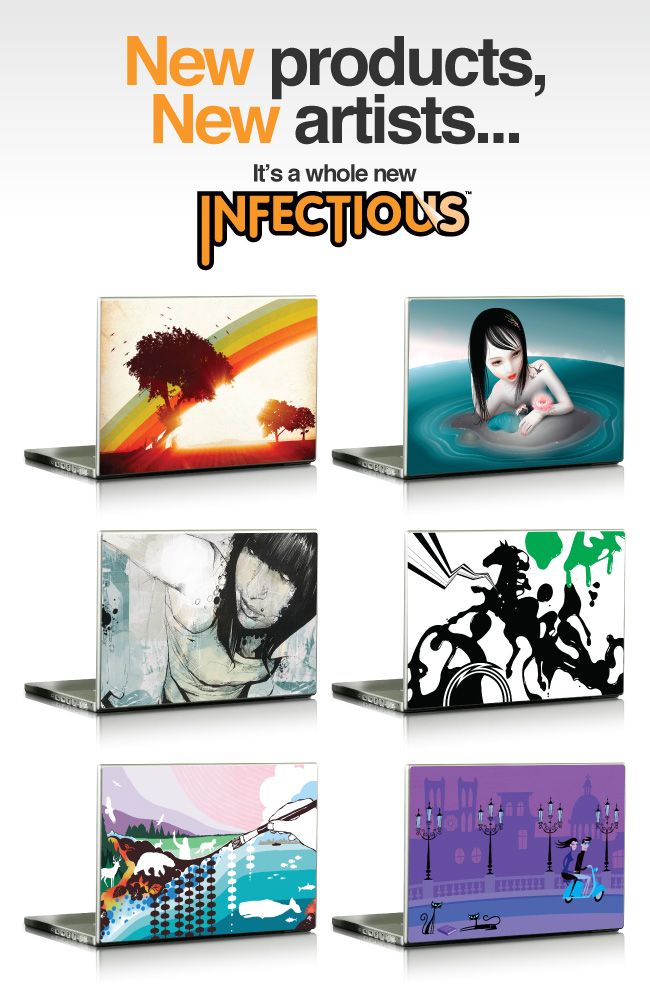 Today we unveil our new lines of adhesive art for Laptops and Walls. And as a special launch offer, all our Laptop, Wall and Car Art is 15-30% off. This offer is good till November 4th.
Blame it on the cars. We've become so obsessed with putting art on vehicles, everything else in life seems naked. We've opened our eyes and see the world as blank canvases begging to be beautified.
And now we have six new beautifiers from all over the world to welcome to the Infectious family of artists.
Jasper Goodall is famous for his work at The Face magazine (the former alma mater of Joey, our Artists Liaison). She is such a huge fan that she wooed him into sharing some of his slick neon artwork with us. Jasper has also worked for the likes of Gucci and Nike, and recently launched a couture swimwear collection covered with his self-described "sexual, fantastical, dreamy" illustrations.
Shag (aka Josh Agles) creates paintings that make you yearn to have been born in the atomic age. He describes his work as "a blend of hot rods, tiki heads, skeletons, voodoo lounge and kustom kulture all rolled up in a swanky package". Shag is currently toiling away in his mid-century modern haven in Northern California, preparing for upcoming exhibitions in New York, Paris and Tokyo.
Byroglyphics is (quite literally) the pen name of artist Russ Mills. His weapon of choice for creating his explosive artworks is the humble BIC biro. He characterizes his art as "a hybrid of traditional media and digital imaging, focusing on human idiosyncrasies, both physical and emotional, resulting in distorted forms both subtle and extreme." Phew! His art is currently selling like hot cakes via British gallery Red Propeller.
Paris-based Mijn Schatje creates exquisitely-detailed vector images of wide-eyed mermaids and enchanting ladies. When she's not busy wielding her Illustrator pen tool she lectures at Parsons School of Design's outpost in Paris and runs a "cyber nonprofit hotel" dedicated to showcasing the work of artists in the virtual universe of Second Life. She is currently working on her upcoming solo show at Corey Helford Gallery in LA.
Etsu Meusy hails from Japan, but studied painting and graphic design in Hawaii, Switzerland, New Zealand. She now resides in Canada creating luscious pieces of art inspired by things from her childhood, such as adventures to track down the end of the rainbow and her belief that clouds were edible. She's a cult magazine illustrator: her artwork has been featured everywhere from Nylon and Yen to Faesthetic and Tokion.
JP33 is a nature-lover. His first-ever drawings were of trees with light shining through them. Now, as an adult, he has become famous for his beautiful versions of those original childish efforts. Although he's still sticking to his day job as an art director at Neiman Marcus, check out www.jp33.com for his soon to be launched snowboards and other new developments.
So what are you waiting for? Inject some art into your life.
It's time to join us in the war on boring!
Check out all the fun at www.infectious.com
You May Also Like :
Check Skins :